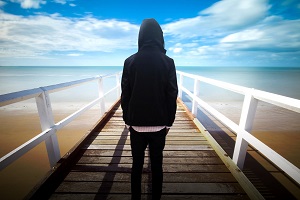 Suicide - The Painful Topic
Death by suicide is neither impulsive, cowardly, vengeful, controlling, nor selfish. There is more to this tragic phenomenon than meets the eye.
It is a myth that suicide is an impulsive, spur-of-the-moment whim. In most of the situations that we encounter the person openly told friends and family, often for years, that he/she felt depressive and suicidal. Years before his death, he attempted suicide by overdose and frequently discussed the incident subsequently. There is a chance that he has visited various websites about suicide and depression. Sometimes there are light-hearted comments or jokes about killing himself.
Suicide has no age limit. Anyone can contemplate ending their live.
Death by suicide is extremely fearsome and daunting, and thus requires considerable thought, planning, and resolve. To consider his death impulsive is to assign primacy to that spur-of-the-moment decision as to precisely when to pull out the gun or jump from a building, instead of focusing on the many factors that led up to that planned moment.
Contemplating suicide is a signature of serious suicidal behaviour. Some of the people who committed suicide were described as "loving, well-organized, thoughtful, and deliberate". No one who knew him would have described him as impulsive.
Some of the deceased were too proud to except help from others or had an excessive sense of shame and dishonour.
Expecting a suicide note is another fallacy. Suicide note is actually rather rare and the absence of such a note reveals the state of mind of the person who is about to die by suicide. To say that this person who dies by suicide is lonely at the time of his death is a massive understatement. Loneliness, combined with alienation, isolation, rejection, and ostracism, is a better approximation. Still, it does not fully capture the suicidal person's state of mind. It is so beyond ordinary experience. Notes are rare because most decedents feel alienated to the point that communication through a note seems pointless or don't even occur to them at all.
Friends and family who have been surprised by a suicide often consider it to be deeply selfish. This is understandable because the bereaved are often convinced that the deceased did not consider the impact of his or her death on those left behind. However, those who die by suicide certainly do consider the impact of their death on others. At this stage they preserve death is a positive rather than a negative outcome.
Warning Signs
Some Suicide Warning Signs - when someone say two or more of the following?
Life isn't worth living

Everyone would be better off without me

Next time I'll do the job right

Don't worry, I won't be around to deal with that

You'll be sorry when I'm gone

I won't be in your way much longer

I just can't deal with everything — life's too hard

I won't be a burden much longer

Nobody understands me — nobody feels the way I do

There's nothing you can do to make it better

I'd be better off dead

I feel like there is no way out

You'd be better off without me
There is a spiritual dimension to suicide. Any of the families I dealt with told me that the deceased was a Christian. In these conversations I am very aware of the commandment of Jesus Christ not to judge. In the family stories it is clear that the deceased was a person with faith, who lost hope. I am basing this statement on Hebrews 11:1: "Faith is the substance of the things hoped for."
The only person who can prevent a suicide is the person who contemplates ending his/her life. The good news is there is hope and help.
If you are facing serious circumstances and you faith is dashing in every direction, stop. Stop! Stop the desperation. Get your Bible and let hope come alive inside you.
Take the first step to ask for help.