Inter Trauma Nexus focuses on four main themes of trauma intervention to enhance healing and wholeness. These areas are the posttraumatic reality of trauma; acute and ongoing trauma; anticipated crisis and trauma; as well as spiritual crisis and trauma.

The posttraumatic reality of trauma includes normal posttraumatic stress reactions (PTSR) and the need to normalize various aspects of life after hurtful experiences. This theme includes posttraumatic stress disorder (PTSD); posttraumatic embitterment reaction (PTER) and posttraumatic embitterment disorder (PTED). Our aim is help people deal with the reactions, effectively and swiftly to prevent disempowering patterns of behaviour and disabling disorders.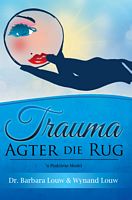 Die boek gee vir jou praktiese riglyne om jou te help om aan te beweeg met jou lewe na trauma. Hierin sal jy riglyne vind oor hoe om die warboel van emosies wat jy ervaar te verstaan en te hanteer. Daar is ook inligting oor verwarrende reaksies op trauma en die vrae wat jy dalk het oor geloof en geestelikheid.

Praktiese hulp, aanwysings en wenke is volop in die boek tevinde en dit sal jou bystaan in hierdie proses van genesing, heel word en vergifnis.'n Unieke deel van hierdie boek is die afdeling oor die finansiële impak van trauma en hoe 'n mens daarna herstel. Die idees en konsepte in hierdie boek word al vir meer as 25 jaar getoets
en ons maak gebruik van die tydlose Bybelse boodskap van hoop.
Barbara & Wynand Louw werk al vir meer as 30 jaar saam in die bediening en gemeenskap. Hulle is albei ingeseënde predikante en stigterslede van 'n nie-winsgewende organisasie, Inter Trauma Nexus. Hierdie organisasie spesialiseer in slagofferbystand, krisis intervensie, traumaverligtingsfasilitering en berading.